We've moved: More space for new challenges

oncgnostics GmbH
At the beginning of May, things were turbulent, because we moved into our new offices and laboratories. The new location in a business park in Jena enables us to create more opportunities for our company growth and to increase our (international) sales.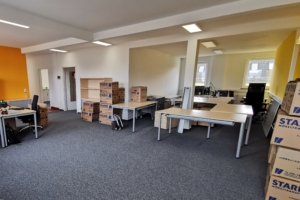 It was the first time we've moved since the company was founded in 2012. Now, we have more space for our steadily growing team. This would not have been possible in the previous premises of the Bio-Instrumentation center (Bio-Instrumentezentrum BIZ) Jena.
We also needed better laboratory conditions to make research and production more efficient. Now we can better manage the increasing international interest in GynTect, which is reflected e.g. in the cooperation with Euroimmun and the cooperation with our Chinese partners, GeneoDx. With 352m², our new location is twice as large as the area in the BIZ. With two spacious offices and a conference room, nobody has to sit close to loud devices in the laboratory.
Extended laboratories and new break areas
Particularly practical is the new division of our laboratories. In particular, we can now coordinate the areas of responsibility even better thanks to an additional, fourth laboratory. While the laboratories for research & development and for PCR testing are located on the second floor, like our offices, the laboratories for our production are in the basement. The daily sports unit is thus integrated into everyday work. Now we finally have more space for our laboratory equipment and further developments and projects.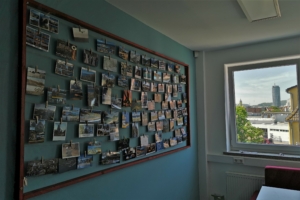 In general, the rooms have felt homely after just a few days, also thanks to the smell of fresh paint and the new furniture. The cozy lounge has immediately become our new favorite place. Here we take a relaxed break together and can also exchange ideas apart from work topics.
In good weather, we get outside at lunchtime in our own "forest tavern" in the backyard. It stands right next to that of our neighbor 3di. The company has also just moved into the building. The team produces implants, i.e. medical products. They are therefore also active in the medical technology industry and work in a similar way in terms of regulatory requirements.
The new location brings further advantages to our company and our employees: In addition to the proximity to the city center and better parking facilities, it also guarantees sufficient work space for everyone at the same time, even in the current Corona period.
Thus, we are optimally equipped and motivated to tackle new stages in our company's history.
https://www.oncgnostics.com/wp-content/uploads/2021/06/210602_Pressetermin_Jena_TV_11.jpg
321
845
TowerPR
https://www.oncgnostics.com/wp-content/uploads/2015/03/oncgnostics-logo1-300x138.png
TowerPR
2021-06-08 15:00:57
2021-06-08 15:00:57
We've moved: More space for new challenges